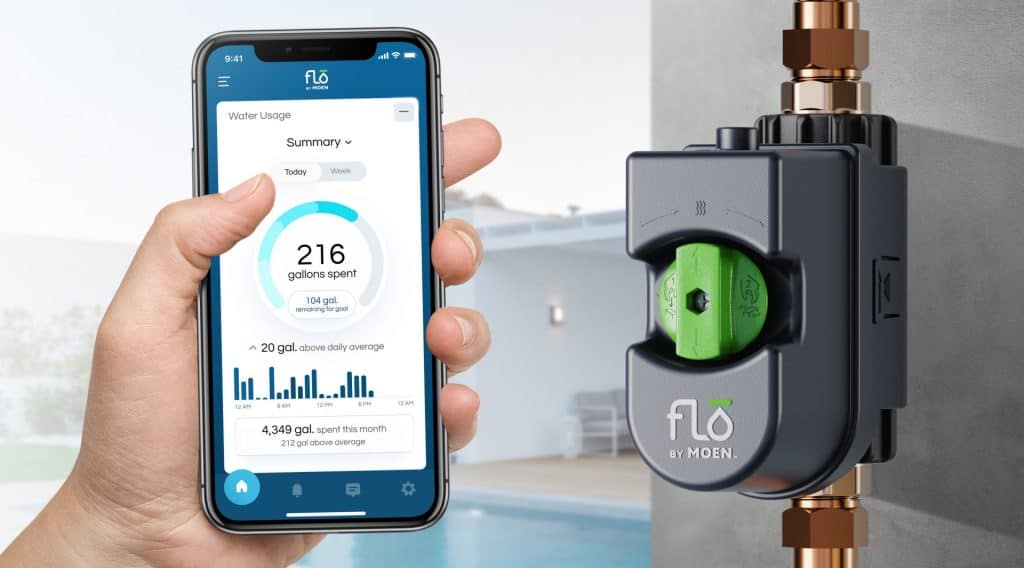 A drippy faucet or a leaky toilet is a problem, but an unseen leak is even more problematic and could cause extensive damage before it's discovered.
Perhaps this is why the severity of individual insurance claims attributed to water damage, reached more than $11,000 between 2015-2019.
The impact could be far-reaching since insurance premiums sometimes rise following such claims, and it's incredibly inconvenient to live with water damage results.
What if, like magic, a leak was stopped before you knew it was there, preventing damage to your home and pocketbook? It's possible and not by prestidigitation, but with the WaterShieldSM by FPL Home program. The WaterShieldSM by FPL Home program uses the Flo by Moen water shutoff device and the Flo by Moen smartphone application (App) to help protect your home from water damage. The system detects leaks before they're noticeable, sensing even the most minor and unseen leaks that drip from pipes behind walls and under cabinets. The system learns your water use habits and keeps track of water pressure. Customers receive an alert when there's a plumbing issue.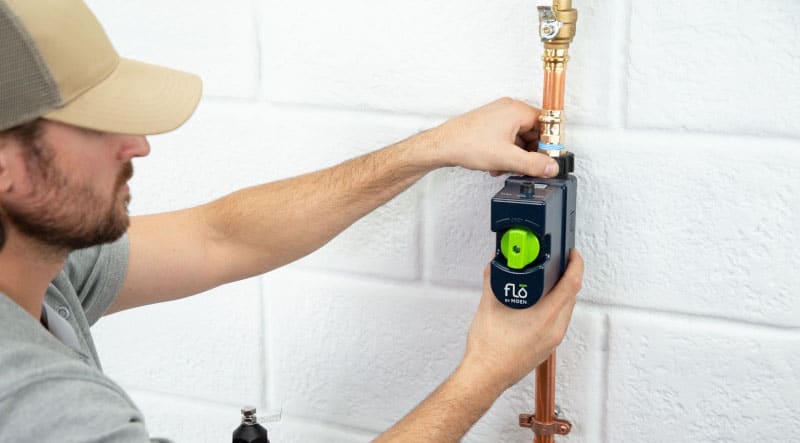 The Flo by Moen water shutoff device updates homeowners in real-time via an App notification, and if a significant leak is detected, the Flo by Moen device automatically shuts off the water supply, potentially saving thousands of dollars in damages and on your water bill. If a faucet was left running, you could use a smartphone via the App to turn off the water at that specific faucet. Snowbirds who leave the Sunshine State for points north each summer can have peace of mind when enrolling in the WaterShieldSM by FPL Home program.
Enrollment includes installation of the Flo by Moen water shutoff device (a $600 value) and access to the mobile App to control water when you're away from home. Enrolling in the WaterShieldSM by FPL Home program could mean a discount on your homeowner's insurance (check with your provider). Enrollment also provides $1,000 in annual coverage for interior plumbing if it fails due to normal wear and tear.
The cost to enroll in the WaterShieldSM by FPL Home program is only $19.99 per month, plus tax, and could pay for itself if your homeowner's insurance provides a discount. If you sign up with our code (2FREESIG) you can get your first year for only $12.99 a month!*
Sign up with Secured Insurance Group's code: 2FREESIG

Frequently Asked Questions
The Flo by Moen smart water shutoff device is a leak detection and water monitoring device for your home. Installed on the main water supply line, one device help protects the entire home from water damage and leaks.
How does Flo by Moen smart water shutoff device detect Leaks?
Once Flo by Moen smart water shutoff device is installed on the main water line coming into the home, it will go through what we call a "learning phase" for the first week of installation. During this phase, the pressure, temperature and flow rate sensors in the device will collect data about how water is used in the home. It will then use this data to understand how much water use is expected in the home.
How do I know if I can receive an insurance discount?
Some insurance companies will allow for you to save money on your insurance premiums when you enroll in the WaterShield by FPL Home program. Contact your insurance provider to verify if you qualify for a home owner's insurance discount. You can obtain your monitoring certificate from the Flo by Moen user portal and send it to your insurance provider.
Where is the device installed?
Flo by Moen Smart Water Shut-off is installed on the main water line coming into the home. For some, this may be outside and for others this may be in a basement, garage or crawl space.
What is covered for plumbing repairs and how do I file a claim?
You can submit a claim 24 hours/7 days a week at www.4repairs.net or you may call 888-883-3957 during normal business hours (8am – 5 pm EST, m-f). For emergency repair – outside of normal business hours you can submit an e-mail to urgent@fortegra.com.
Your coverage will begin 30 days after your subscription installation date. The service providers provides coverage for the repair or replacement of components of the interior plumbing system that fail due to normal wear tear. An Interior plumbing system consist of the water service and vents lines within the interior limits of Your residence. Coverage includes water leaks and breaks, interior hose bibs, angle stops, risers, shower/tub valves and waste and vent lines above the foundation of Your residents.
Sign up with Secured Insurance Group's code: 2FREESIG
To sign up today with this special offer today, click here.
*
*$12.99 price will be in effect for the first year, and a price
of $19.99 will take effect the following year. Discounts offered
by homeowner's insurance providers vary. FPL Home is an
unregulated subsidiary of Florida Power & Light Company (FPL).
The WaterShield by FPL HomeTM program is offered by FPL Home,
Florida license #E099597, and not FPL. Installation of the equipment
is provided by the licensed contractor named in the WaterShield
program terms. The mobile application for use of the equipment is
provided by Flo Technologies, Inc. The Interior Plumbing Service
Plan is administered by LOTSolutions, Inc. (888) 883-3957 and
is provided by Lyndon Southern Insurance Company, FL License
No. FL-03698. Please refer to the full service plan provisions for
complete information including details of benefits, coverage,
specific exclusions, arbitration provisions, class action waivers,
conditions and limitations.