November 21, 2023
Thanksgiving can bring joy and warmth, but it's also a time when certain risks may arise. Here are some insurance tips to keep in mind during the Thanksgiving holiday:
Fire Safety and Home Insurance:

Tip: Avoid leaving the kitchen unattended while cooking.
Reason: Thanksgiving often involves elaborate cooking. Unattended stovetops or ovens can lead to fires.
Insurance Impact: Home insurance typically covers fire damage, but prevention is key to avoiding potential claims and keeping premiums stable.

Travel Insurance for Holiday Trips:

Tip: Consider travel insurance for holiday trips.
Reason: Travel plans can be disrupted due to unforeseen events like flight cancellations or medical emergencies.
Insurance Impact: Travel insurance can provide coverage for trip interruptions, medical emergencies, and other unexpected events.

Liability Coverage for Guests:

Tip: Ensure your liability coverage is sufficient.
Reason: Hosting guests increases the risk of accidents, such as slips or falls.
Insurance Impact: Homeowners insurance often includes liability coverage, but it's essential to confirm that the limit is adequate.

Car Insurance and Holiday Travel:

Tip: Check your car insurance coverage before traveling.
Reason: Thanksgiving sees a significant increase in travel, leading to higher chances of accidents.
Insurance Impact: Confirm that your auto insurance is up-to-date and provides adequate coverage for potential travel-related incidents.

Home Security and Insurance:

Tip: Secure your home before leaving for Thanksgiving travel.
Reason: Vacant homes are more susceptible to burglaries.
Insurance Impact: A home security system may not only provide peace of mind but could also lead to discounts on homeowners insurance.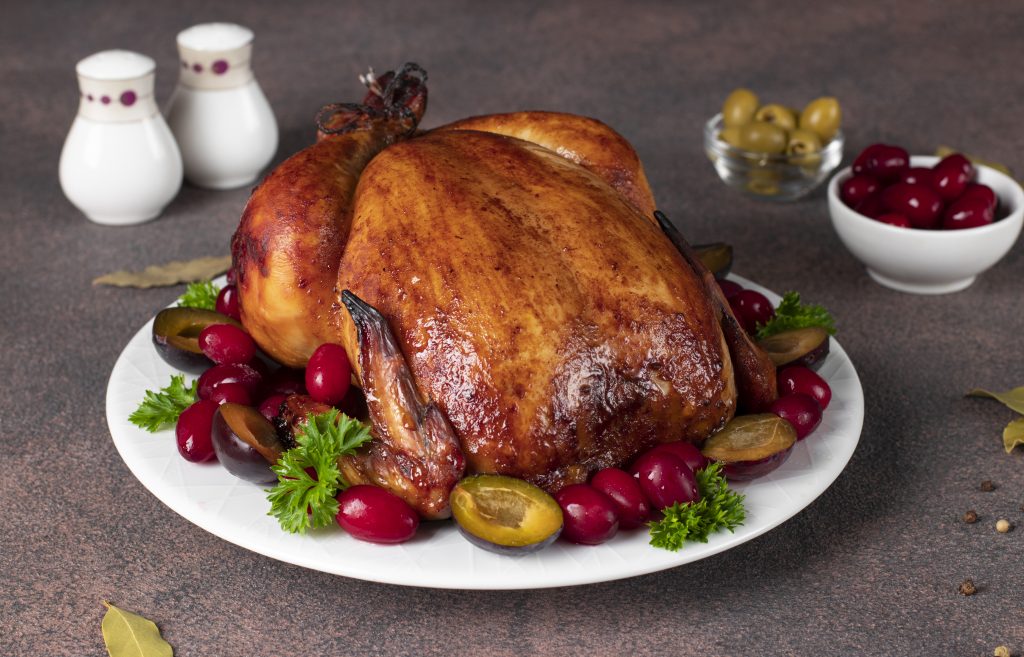 Food Safety at Home:

Tip: Practice safe food handling to prevent foodborne illnesses.
Reason: Improper food handling can lead to health issues for you and your guests.
Insurance Impact: While health insurance covers medical expenses, avoiding illnesses is preferable. Be diligent to prevent claims.

Review Your Insurance Policies:

Tip: Take some time to review your insurance policies.
Reason: Understanding your coverage and policy limits ensures you're adequately protected.
Insurance Impact: Regular policy reviews help you identify potential coverage gaps or areas where adjustments are needed.

Preventive Measures for Home Hazards:

Tip: Address potential hazards at home.
Reason: Decorations, candles, and increased foot traffic can pose risks.
Insurance Impact: Proactive measures can help prevent accidents, reducing the likelihood of insurance claims.

Document Valuables:

Tip: Document valuable items.
Reason: In the event of loss or theft, having a record of valuable possessions aids in the insurance claims process.
Insurance Impact: It expedites the claims process and helps ensure fair compensation for lost or damaged items.

Emergency Preparedness:
Tip: Have an emergency plan in place.
Reason: Unforeseen events can happen at any time.
Insurance Impact: Being prepared can minimize damage and potential insurance claims in emergencies.
By incorporating these insurance tips into your Thanksgiving preparations, you can celebrate the holiday with peace of mind, knowing you've taken steps to mitigate potential risks.